Appointments
To provide a flexible service to you, appointments are available 7 days a week.
To book an appointment at Ian Rodgerson Physiotherapy, or to make a query, please use one of the following contact methods:
Call: 01432 806 544
E-mail: info@herefordphysiotherapy.co.uk
Visit our practice:
Ian Rodgerson Physiotherapy
Hereford Leisure Centre
Holmer Road
Hereford
HR4 9UD
Payment
We accept cash and card payments for appointments.
Please call us for physiotherapy assessment and treatment prices.
We also accept private medical insurance. Please ensure you contact your private medical insurer for your policy number and authorisation code to quote when booking your appointment.
To book an appointment please call Ian Rodgerson Physiotherapy on 01432 806 544 .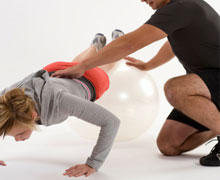 Special Offer
Discount for Halo members and staff.
Careers
Ian Rodgerson Physiotherapy clinic are looking for musculoskeletal physiotherapists to join the team.
Please see our Recruitment page for more information.